Teaching is a difficult job, but one of the most rewarding jobs in the universe. As teachers, we say our learners make it worth the sacrifices we make, but there is one factor that can play a vital role in your satisfaction as a teacher: your colleagues.
A recent research in the American education system showed that teachers spend a lot of time away from their colleagues, encouraging competition instead of collaboration. This makes it hard for teachers to work together to resolve any issues that may arise.
However, teachers do not have to work under such tense environments; there are different ways teachers can identify with their colleagues and create a more collaborative atmosphere in the school. Here are some ways teachers can collaborate thus improving the quality of instructions they give their students.
Build Relationships
Teaching can be quite emotionally draining, and good colleagues will be there for you in different types of circumstances. If you are dealing with a difficult student and feel overwhelmed, you can talk about it with the teacher next door. Did a student say something hilarious? Pop into the next class and let your laughter loose.
Be there for your colleagues too when they are having a tough day. Sometimes, simply asking fellow teachers how their day opened up bonding conversations.
These relationships you establish with your colleagues are not only great for your mental well-being but are also a base of collaboration that can lead to high student performance. Just like developing good relationships with students is a base for excellent academic performance, creating relationships with other teachers sets the base for successful collaboration.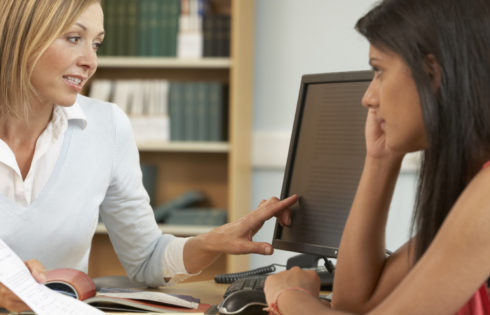 Share Responsibility
The ideal teacher teams supplement each other. Share the duties for planning by splitting tasks according to your specialty and interests. Before sharing responsibilities, consider the following:
What is my area of specialization? What do I enjoy doing?
What does my colleague enjoy doing? What are their areas of expertise?
How much time is needed?
What can be planned as a team? What can one plan on their own?
How can the team share their ideas and get feedback from every member?
Ensure you are all on the same page
One major hindrance to connecting with the rest of the teachers is making sure that all of you are on the same page. Everyone in the team should know their duties and be made an important part of the team. When that is put in clear perspective, it is a lot easier to establish relationships and evaluate the best ways to enhance the quality of education students get.
Learn from other teachers
Everyone has their distinct skills and knowledge, so it can be beneficial to share the information with other people. If you are great with technology, you can show the other teachers how to use tech in teaching learners effectively. Took a new class? Share the new information you have acquired.
Create Time to Collaborate
If your school has shared planning time in the course of the school day, this is the best time to collaborate. During shared planned time teachers can make progress in planning accurate and applicable lessons for their learners.
Most schools provide teachers with enough time during the school day to collaborate with their colleagues. If this time is not available, you can consider an appropriate time when the other teachers are available.
Think of different ways you can collaborate inside and outside the classroom. Steal some minutes before or after classes to talk with your colleagues. If your colleagues are tech savvy, think about virtual collaboration. EdHero's easy collaboration tool can help you bring everyone on the same page. You can chat with each other, comment on each other's work and do all the planning at the same time. More interestingly you can find other like-minded teachers and collaborate with them on lessons, units, courses and what not.
Share what works with your colleagues
If you are noticing significant results from learners in your class, it is worth sharing with the other teachers the teaching techniques you have used to get such great results. You can also get other teachers experiences with what works for them, improving your learners' knowledge in the process.
Accept new ideas
Most times, we easily shut others down when their ideas push us out of our comfort zones. However, having an open mind is indispensable when working as a team with other teachers. Give everyone a chance to air their views and do not be afraid to try new, creative techniques.
Effective collaboration occurs when teachers work with each other to divide the workload rather than doubling their results. From assigning of tasks, teachers can learn a lot from one another as they get back together to review their different assignments into a cohesive lesson plan.
---
The Pre-launch excitement that we were eager to present to all the teachers and home-school parents is finally here. Join the group of first 100 Educational Material Authors today and receives all our Pre-Launch benefits. Reserve your spot in the first 100 today. You'll be glad you did!