PURCHASING
---
How to purchase a resource?
To purchase a resource from EdHero, follow the steps below:
Go to a resource's details page and select Add to cart.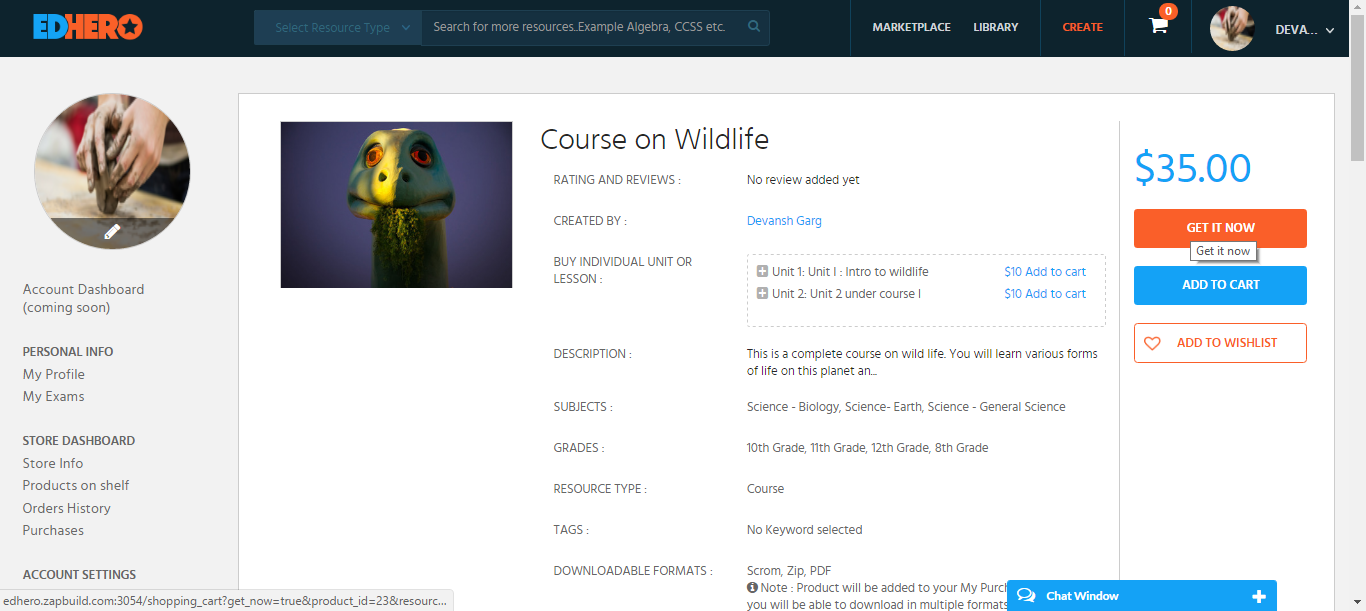 Or, if you'd like more than one copy, select Buy this for multiple teachers, specify the number of copies you'd like, then select Add to cart. (multiple teachers option will be rolled out in 2nd phase)
Click on the cart option on the menu bar to visit your cart and review your items. If you want to continue shopping then simply click continue shopping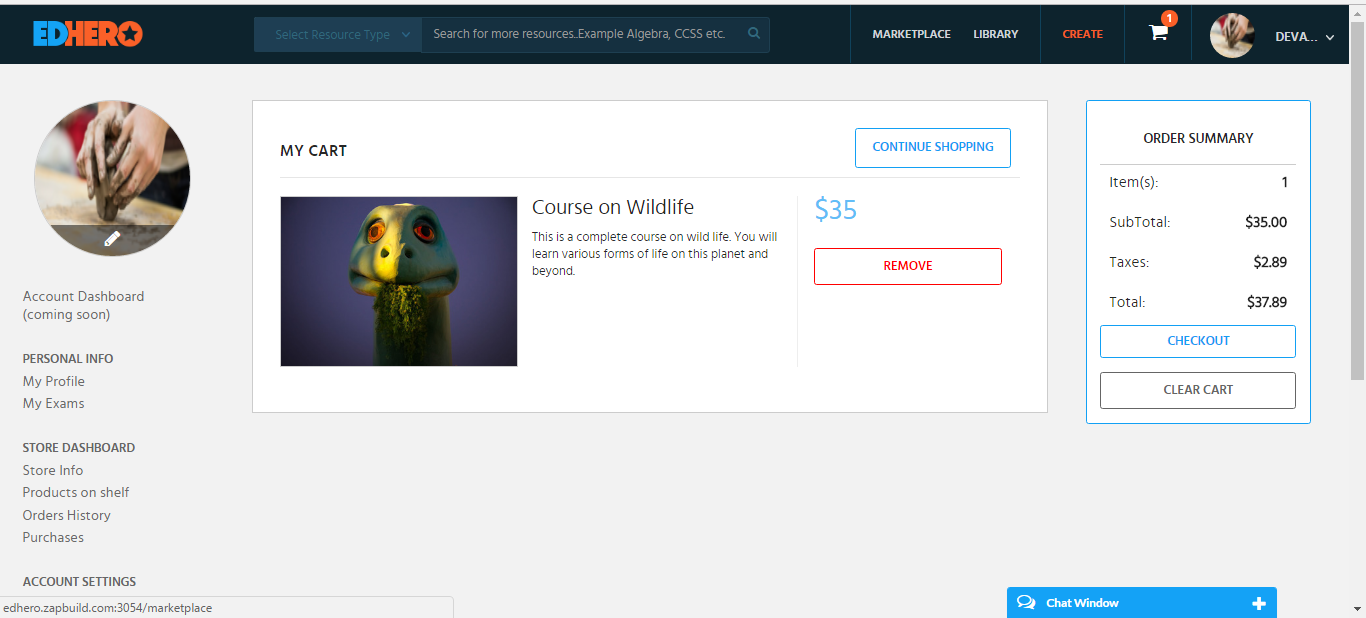 Note: You can access your cart at the top of the screen and check out at any time.
Review your cart, and when you're done, select CHECKOUT.
Select your payment method on the following screen, enter your credit card information (if you're paying by credit card), and click Next.
Review your order and select Submit Order.
Note: If you select PayPal as your payment method, you will be redirected to their site to complete payment (after you've filled out the address form). Afterward, you will be taken back to EdHero.
You'll receive an email confirmation and links to download your newly purchased digital content as soon as your order is processed. You can also access your purchased resources by logging into your EdHero's account and clicking the My Purchases button on your Account Dashboard or from the top right corner dropdown list.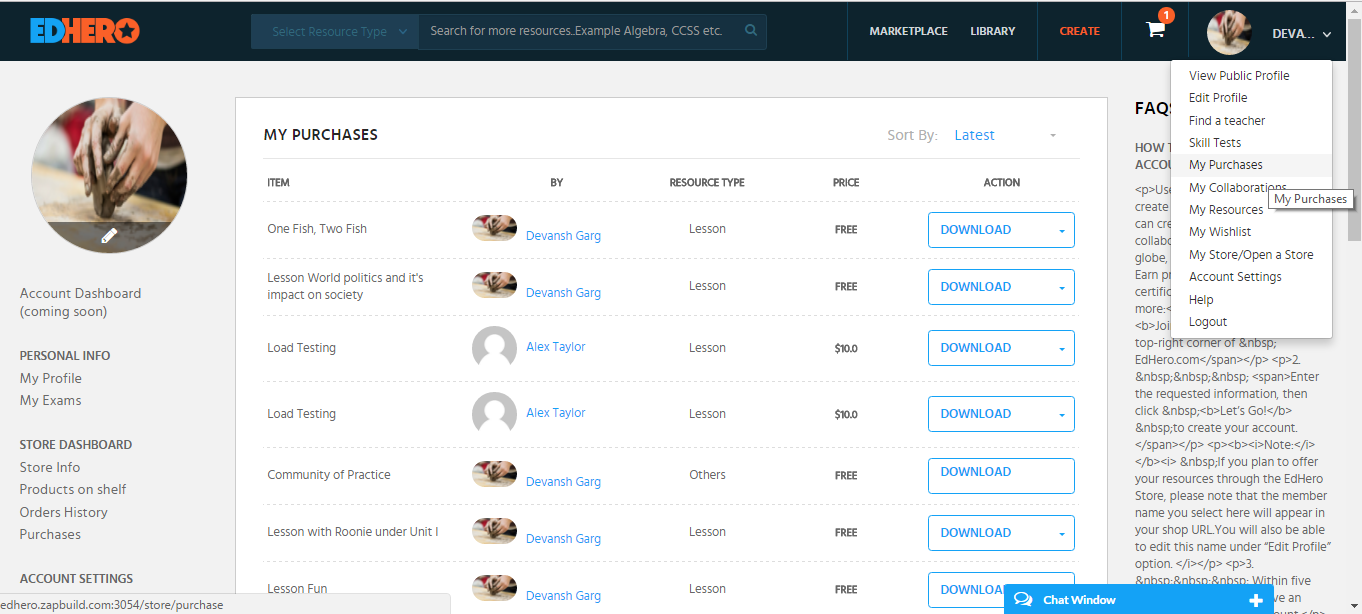 We recommend downloading purchased resources and saving them to your computer or to a cloud account (like Dropbox, Onedrive, Google Drive). That way, you'll always have access to the content you purchased, even if the resource is removed from the EdHero platform.
---
What are my payment options?
You have two payment options to choose from:
Note: EdHero only accepts payment in U.S. dollars.
All of these options will have on-screen prompts you can follow when you choose your payment method during checkout.
---
How to view and download purchased resources?
To find your purchased resources on EdHero platform log into your Edhero account, then click the My Purchases button at the top of the page. There, you'll see a page listing all your purchased resources, including download links for digital resources.
We recommend downloading purchased resources and saving them to your computer or to a cloud account (like Dropbox). That way, you'll always have access to the content you purchased, even if the item is removed from the Edhero platform.
---
How do I open the files that I purchased on EdHero?
EdHero supports a wide variety of files that you may purchase and download. If you're unfamiliar with the type of file you've purchased, here's a list of common files:
ZIP file
A ZIP file is a bundle of files (or a single file) that is "zipped" (compressed) to make storage, downloading, and emailing, easier.
Most modern operating systems (Windows XP+, Mac OSX) can open ZIP files natively. To open a ZIP file, double-click on it. On a Mac, your unzipped file(s) will appear in the same folder as the original ZIP file. On a Windows computer, drag the unzipped file(s) to a new folder. Once you've put the files where you want them (extracted them to a new folder), you'll be able to open and use them normally.
If your ZIP file doesn't automatically open, we suggest using 7-Zip, which is a free app that will unzip files on a Windows computer.
PDF file
A PDF file is a common document format. Some have fields you can edit (like a signature field), but many cannot be altered at all.
You can open PDF files using Adobe Acrobat Reader (for Mac, Windows, or Android).
Microsoft Office files
You can also open Microsoft Office files (.ppt/.pptx, .doc/.docx, and .xls/.xlsx) in Apache OpenOffice and LibreOffice, both of which are free and open source software suites.
---
How does the rating system work?
We have a team of highly qualified teachers who regularly rate resources on the platform based on six five-star scales. Also, after a member has purchased an item or downloaded the item, they have an opportunity to leave a review and rate the resource. From these individual scores, a composite score is calculated based on each member's rating and applied to the resource as its overall rating.
If you have a complaint about a resource you've purchased, you may want to reach out to the shop that created that resource for help resolving the issue before leaving a negative rating.
---
Content Issues?
If there's something wrong with a resource you've bought on EdHero, like incorrect or missing content, try reaching out to them via chat message.
If you haven't received a reply from the shopkeeper or are experiencing website issues, like trouble downloading content us at support@edhero.com. Please be sure to include the shop and resource names in the support form
---
Contact support?
If you're still not finding the help you need on the EdHero Help site, please contact support.
We'll be happy to help solve any issue you might be having on EdHero. We might even be able to add articles that address your issue, so in the future, others will be able to find the help they need, too.
---