What's the one thing all teachers share in common? We all believe in the transformative power of learning–correct! We all care about seeing our students succeed in the world–correct, again! What's one other trait we share? We're optimists!
Before you think, "Wait a minute, I've known teachers who aren't optimists," let me explain. The nature of teaching, like designing a building, is by its very nature an act of optimism and faith in the future. In order to do what we do every day in the classroom, we have to believe. Sometimes that requires a conscious effort. Good teachers must choose optimism.
There's A Difference!
Of course, any job requires optimism in a basic sense. If you are a store manager, a clerk, a nurse, or a software engineer, you must be positive and hopeful. You must believe that what you're doing every day makes some small difference to someone, somehow. Yes, sometimes you do need to pump yourself up.
There's a big difference, however, between pumping yourself up when your workplace is a laptop or a small team of like-minded adults, and when you're standing in front of a room full of teenagers with all kinds of problems and issues that you cannot even begin to understand.
The Cheerleader
In my classroom teaching days, I often felt like a cheerleader. Maybe you know t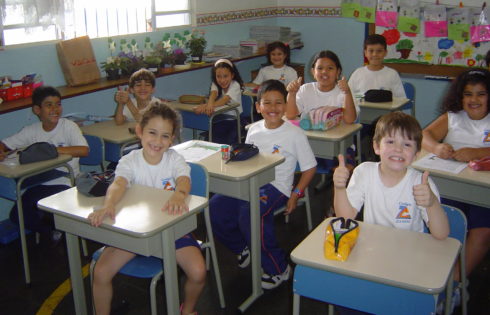 hat feeling. I realize now, years later, that I was doing it all wrong. If more of my curriculum had been student-centered, project-centered, and based on real-world assignments, I wouldn't have needed to cheer my students on every day.
Not that I was a cheerleader every day. One of my most successful moments as a teacher was arranging a poetry reading for my students at a local bookshop. It was so rewarding to see them engaged in their writing because it was for a real audience, and I wish I'd done a lot more of that.
Still, if we're being honest, even the best teachers sometimes have to play cheerleader. It's hard. It takes a toll, day in and day out, to stay optimistic and project that optimism to your students.
The Counselor Who Wasn't a Counselor
Anyone who's spent time in the classroom knows that every teacher, sooner or later, might find himself or herself playing the role of the social worker/counselor with students who, for valid reasons, are unable to achieve. I found myself, many times over the years, trying to carry the load of optimism for myself and for troubled, disengaged students.
I recall with sadness a girl in my freshman English class, years ago. She was shy, hid her face behind her long hair, and tried her best to sink down into her chair and become invisible. One day, she just stopped coming to class, and I wondered why.
After talking to her one morning before school, I realized she was clearly clinically depressed. She could manage the motivation to make it to school in the mornings, but by the afternoon, she was just done. She went home and tried to sleep it all away, and her parents didn't seem to care.
I found myself trying to cheer-lead and encourage her to come to class and do enough work to pass. Of course, you can't encourage someone out of depression, but that didn't stop me from trying. As teachers, we sometimes carry the burden of keeping ourselves positive, enthusiastic, and hopeful, and we sometimes try to take on the extra weight of our students.
So with all the pressures we deal with every day, and the reasons not to stay positive (pressure from administrators, classroom behavior problems, workload), how can we manage to hold onto the optimism we need to bring to the classroom every day?
Pay attention to your own mental health. I can't stress this enough. This job can contribute to depression or anxiety disorders. Get help if you need it.
Force yourself to have outside interests, things you're "Into." I know, I know, you'll say you don't have time. Make the time. People usually make the time to do the things they really want to do, don't they?
Stay inspired by something larger than yourself. If you're a member of a faith community, or some other support community, you need them now, more than ever. Don't get "too busy," or you'll regret it.
Professional Development–Insist on it. You absolutely MUST keep growing and adding to your skill set. Attend conferences, develop a personal learning network, and join online professional development communities that give you opportunities to keep learning.
Disengage from negative peers. There's a difference between someone who needs to vent every now and then, and someone who moans and complains every day. Don't sit at his or her lunch table. Say "mmm, hmm," and walk away when they start griping. Seriously, life is too short, and you need people who bring you up, not down. Giving them an audience isn't doing them any favors, either.
How do you stay optimistic and positive?
So what helps you maintain the positive attitude and enthusiasm to go in there every day and teach? Your suggestions just might help someone else, too.
---
EdHero provides you an opportunity to collaborate to create rich lessons, units and courses; earn professional development certificates and sell your materials through your own store. Explore the marketplace, team up with teachers across the globe, advance your teaching skills, change kids' lives and earn extra money – all in one place!
The Pre-launch excitement that we were eager to present to all the teachers and home-school parents is finally here. Join the group of first 100 Educational Material Authors today and receives all our Pre-Launch benefits. Reserve your spot in the first 100 today. You'll be glad you did!