My school celebrated homecoming last weekend. I usually don't get very nostalgic about homecoming.  At my school, it's the usual homecoming week. There are some contests for students in the Greek community throughout the week and some special events for the alumni who return to campus. I often forget about the week and its importance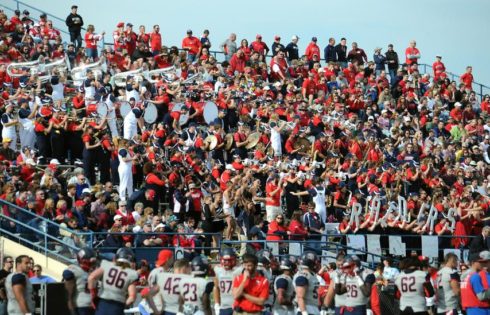 , too busy worrying about the second half of the semester, the grading, planning for next semester and working on a couple papers I need to write. That is, until Friday.
It was a morning like any other, prepping for class, dealing with student meetings to go over their courses for next semester and grading. One meeting just wrapped up and I had 12 minutes before class when a face peeked into my doorway and said, "Hi Don – do you remember me?"
His name escaped me for a second, but as he started saying it, I helped him finish. He was no stranger to my office, as he had been in several of my classes when he was an undergrad. He was a good guy, who, like many other college students, needed some help maneuvering through college and preparing for life away from campus.
We chatted for a while, and then he reached in his bag. "I have something for you." As he handed it to me, he said, "Thanks." We talked some more and I had to go to class, but my day had been made.
As educators, we touch people's lives. When they are on our campus, these students are experiencing the new world of college. As they go through college, they have questions and concerns, and we try to guide them as best we can. Each student comes from a unique background, but one thing is the same – college, and the people around them, affect their lives forever. After a few years at our colleges and universities, they graduate and move on, facing new challenges, but the time we spent with them is invaluable as they transformed into adults.
Like many other faculty, I stay connected through Facebook, Twitter, Instagram and LinkedIn. My rule is I don't friend them, but accept their requests. That removes the awkwardness of a professor asking to be their friend. Whenever I log in to social media, their life events come before me, weddings, birthdays, promotions.
Sometimes I sit idly by, wondering if the student from several years ago still remembers who I am. But last Friday proved that the students do remember who I am and, more importantly, still want to share their life events with me.
It isn't simply these life events that they share. As my first students move into managerial positions, these are opportunities to stay in contact with the people who will be hiring the next round of graduates. These former students can also offer insights into the changing world, offering advice as to what's expected of graduates and what courses and experiences would best benefit them as they look for a job. These former students also offer opportunities for current students looking for guidance. In the past, when I hear of someone with similar interests of a former student, such as moving to another city or chasing a dream, I ask if it would be okay to introduce them, to allow them to talk about those interests and ask questions to someone who has done what they hope to.
The students we helped years ago, the ones we sat with and offered advice or listened to while they grumbled about another class, or who told us first about an accomplishment, still remember us. They don't forget about us when they no longer walk our campuses, instead, we should find ways to cultivate that relationship. Just as they learned from us, we can learn from them. And the way to do that is by not only staying connected on social media, but staying active,including commenting on their posts and even every once in a while asking "How are you doing?"
We all get busy. Managing classes, grading, planning, committee work, as well as maintaining our outside lives. But we also need to remember that our students are always our students. Just as they don't forget us, we don't forget them.
photo credit: Gage Skidmore <a href="http://www.flickr.com/photos/22007612@N05/24543442836″>Martin O'Malley with supporter</a> via <a href="http://photopin.com">photopin</a> <a href="https://creativecommons.org/licenses/by-sa/2.0/">(license)</a>
---
EdHero provides you an opportunity to collaborate to create rich lessons, units and courses; earn professional development certificates and sell your materials through your own store. Explore the marketplace, team up with teachers across the globe, advance your teaching skills, change kids' lives and earn extra money – all in one place!
The Pre-launch excitement that we were eager to present to all the teachers and home-school parents is finally here. Join the group of first 100 Educational Material Authors today and receives all our Pre-Launch benefits. Reserve your spot in the first 100 today. You'll be glad you did!